Are Global Trends Laying Track for a Resurgence of U.S. Manufacturing Dominance?
by Rob Ospalik - Partner, Dennis Hall - Managing Director, and Roberto Ferranti - Vice President Baird Capital Portfolio Operations
As the United States' long, slow economic recovery continues, growth in U.S.-based manufacturing continues to exceed expectations. Many media accounts have attributed this growth to a recent wave of "onshoring." These stories purport that U.S. companies such as General Electric, Apple and Wal-Mart are reversing long-established practices of outsourcing labor and manufacturing to Asia in favor of producing finished goods directly in the U.S. or Europe. Baird Capital sees this dynamic in action, and is managing its investments accordingly.
Whether the U.S. is on the cusp of a "new Manufacturing Renaissance,"1 as some commentators portend, or looking at a return to 1950s-style demographics, when the U.S. accounted for approximately 40% of the world's manufactured products, one thing is certain: The difference in the cost of labor between China and the U.S. is shrinking, gradually reducing the primary benefit that drove outsourcing decisions just one decade ago.
Exhibit 1
China's Wage Rates Are Growing Rapidly
Average wages could approach 17 percent of those in the U.S. by 2015, up from 3 percent in 2000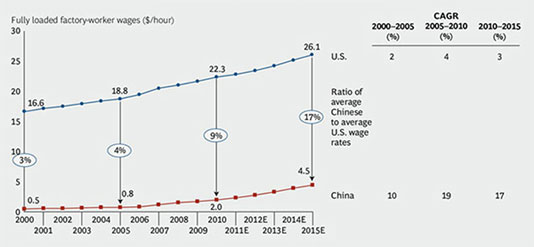 Source: Economist Intelligence Unit; U.S. Bureau of Labor Statistics; selected company data; BCG analysis.
Other factors impacting the net benefits of outsourcing include rising transportation costs, necessary infrastructure investments and natural cultural gaps, as well as the changing times. Old outsourcing theories called for consistent and predictable supply chain costs and labor arbitrage strategies. Today's approach prioritizes the repatriation of manufacturing investments with the goal of producing goods in the U.S. or Europe.
Despite the undeniability of the onshoring trend, Baird Capital continues to see a number of misleading conclusions and inconsistencies in some of the more popular commentaries on the subject. This article will address and clarify those concepts.
Middle-Market vs. Large Companies: One Solution Does Not Fit All
Large companies like those identified above generally find it easier to onshore manufacturing at competitive costs thanks to the efficiency benefits of scale. However, middle-market companies face a very different reality. Due to their smaller volumes and operations, these organizations should continue to see significant benefits in accessing the scale of Asia production. While the cost of labor in China has increased, it is still less than one-fifth of U.S. and European wage rates, enabling significant benefits for middle-market companies in those countries. In addition, local government policy is helping to facilitate the development of infrastructure and a highly-skilled workforce in central and western China, where wage rates are 30% lower than those in the more traditional offshoring destinations of coastal China. This combination of factors in central and western China should make the region even more appealing as an offshoring option for middle-market companies.
Components Sourcing vs. Finished Goods
The differences between assembling finished goods and manufacturing components are important in understanding the cost-benefit equation for companies considering offshoring. Value can be created or added in the component process by leveraging global expertise, which is a major reason Baird Capital believes these processes are less likely to return to the U.S. and Europe. However, onshoring the manufacturing of finished goods presents significant cost savings opportunities. Bringing assembly factories closer to the end customer drives greater efficiencies than an Asia sourcing scenario, including working capital optimization, faster lead time to customers and the ability to tailor products to customer requirements. Another critical factor to consider is quality. Companies can better control quality processes in a factory they actively oversee and manage versus a facility they visit periodically.
When Baird Capital applied the old theory of outsourcing finished goods to portfolio companies, the practice drove less return than initially expected. In some cases, companies lost control of their product development expertise and had to rely on Asia suppliers for their new product development needs. In other situations, working capital needs tied up funds that could have been used to pay down debt or reinvest in the company. So, from a practical standpoint, Baird Capital understands the trend of onshoring finished goods assembly and manages its investments with that in mind.
Meanwhile, Baird Capital works with portfolio companies to identify the best global locations to source components that will be imported into the U.S. and Europe for final assembly. At the beginning of each sourcing assignment, the same question is asked: Where is the best place in the world to manufacture this specific product? Data drives the response to that question. And Baird Capital has found that, in certain cases, the U.S. is the answer. In other scenarios, Asia remains very competitive on a landed-cost basis.
Optimal Onshoring Regions by Sourcing Volume and Mix



Baird Capital continues to find tremendous benefit in its sourcing strategy, consistently seeing an average of 20-30% cost reduction from sourcing efforts. So, while supplier locations may change, the foundation of the strategy should not.
Baird Capital has had an active, on-the-ground presence in Asia since 2003, with a dedicated team of investment and operations professionals who work exclusively with portfolio companies in support of Asia strategies. This provides unique insight into onshoring trends from the perspective of U.S. - and European-based portfolio companies as well as the expertise of Baird Capital's Asia team. This combination of global capabilities and earned experience is invaluable in determining the best locations and types of sourcing for portfolio companies.
(1) See Boston Consulting Group's Made in America, 2011.