Baird Capital Invests in Cala Health, Inc.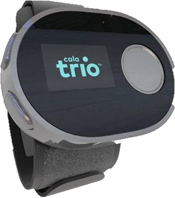 Cala Health, Inc. (Cala) announced today that is has raised $50 Million Series C Funding from a number of new investors, including Baird Capital.
Cala is a bioelectronic medicine company developing wearable therapies for chronic disease. They will use the new funds to introduce Cala TrioTM, a breakthrough therapy for hand tremors in people with essential tremor, to the market as well as expand its therapeutic pipeline.
Read Cala's news release, or visit the Cala Trio homepage for more information.