Could Western China Be China's + 1 in an Offshoring Strategy?
East Meets West
When it comes to offshore manufacturing strategies, currency pressure, labor wage dynamics and increasing supply chain costs have many companies exploring alternatives to China. Furthermore, China's Five-Year Growth Plan seems to be setting up a shift away from the export-driven economy that saw such robust growth over the past decade toward a more domestic, consumer-driven model.
Coastal cities in China are already seeing some impact from these policies, including rising wages and commodity costs. Meanwhile, less developed areas in Western China continue to attract investments in infrastructure and show higher growth rates than the rest of the nation. These Western regions are very different from the coastal areas of China most portfolio companies are familiar with and may provide an alternative or complement to a traditional China strategy.
Members of the Baird Capital team visited Western China this summer – specifically Chengdu, capital of the Sichuan region. The following article summarizes key findings from this trip.
China, One Country, Many Regions
The attention of most casual economic observers has been focused on China as a country. However, like other major countries, including the United States, China is made of many different economic sub-regions. Many of these could compare in size with individual countries, as an individual region's population can range from ~3M people in Tibet to more than 100M people in Guangdong.
Although the ties to China's overall economy are substantial and obvious, each region tends to have its own economic environment and differing governmental systems that can be more or less business-friendly. Regionally they can promote incentives, maintain tax-friendly climates and make varying investments in infrastructure – all of which are key to doing business in China.
Interestingly, as China continues the implementation of its Five-Year Plan, many infrastructure investments are being directed to these inland, Western regions in an effort to support increasing urbanization. This is driving economic development inland which, in turn, is fostering more private investments. Simultaneously, more companies are either starting-up inland or relocating from the coast.
As Figure 1 shows below, growth is accelerating at the inland regions, at a higher pace than the coastal regions.
Figure 1
China GDP growth by region 2010-2011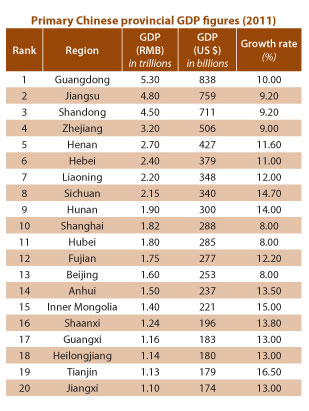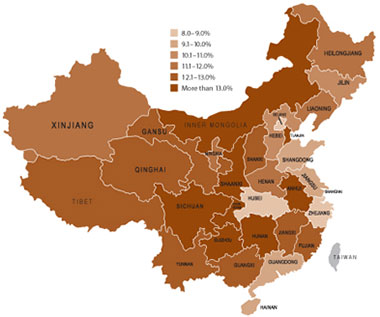 Source: China Briefing
One of the main reasons for the expansion of business activity in the west is a cheaper labor rate outside of the coastal areas, as Figure 2 shows below.
Figure 2
Minimum wage and employer contribution by regions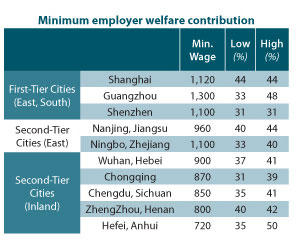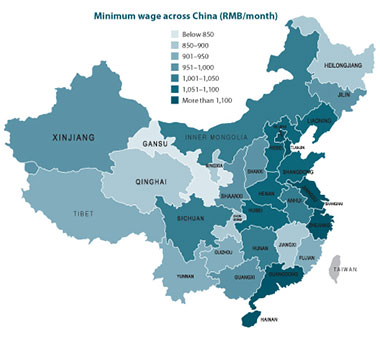 Source: China Briefing
The View From the Ground: Focus on one region – Sichuan
The Sichuan region is home to ~80M people, making it the fourth largest in China, but it's only the 24th region (out of 31 provinces) by GDP-per-capita. Since the implementation of the Chinese government's Western Development Strategy in 2000, Sichuan has seen economic growth consistently above the national average. The region has seen consistent and numerous investments in recent years, and also has one of the friendliest business environments for companies interested in establishing a local presence. Chengdu, the capital of Sichuan, is home to many companies such as FoxConn, Agilent, Texas Instrument, Dell and Accenture. If you use an iPad, it was manufactured in and shipped from Chengdu, Sichuan.
Baird Capital visited the Sichuan region earlier this summer and met with local government officials, local operations of Western companies and many potential suppliers for portfolio companies. Attractive clusters of expertise were found in both the Manufacturing and Business Process Outsourcing sectors.
Chengdu's most obvious attraction is its 30% wage differential versus coastal China. This is compounded by its temperate climate, renowned food, supportive local government and quality of education among its people. There are over 100 local universities graduating more than 90,000 technical people a year, providing a constant flow of highly educated workers.
Many of the sources Baird Capital spoke with indicated that, as economic opportunities improve, workers prefer to stay in the region rather than migrating to the coast. This trend is expected to continue as the rate of investment in the central regions grows. Meanwhile, luring skilled locals back home from the coastal regions is becoming easier as the historic need to significantly raise salaries lessens.
Of course, as quality of life and increased opportunities continue in the Sichuan region, we can expect the gap in pay between Chengdu and coastal cities to close over time.
Because of its central location, Sichuan can be penalized from a lead-time perspective when compared to coastal cities. For an average container, it takes 21 additional days' transit by barge to Shanghai, and companies need to factor in this time when dealing with Sichuan suppliers. However, there are two alternatives. First, Chengdu has invested significantly in air freight and now has the fifth-largest cargo airport in China (certainly the largest outside of the coastal cities) with direct connections to the United States and Europe. Second, for European customers, the railroad may soon provide a logistically sound alternative. A new "Silk Road" is being built as an alternative to the established Trans-Siberian Railroad. When fully operational, it is estimated that this route will enable cargo to reach Western Europe from Sichuan in 16–17 days, as opposed to 60 via ocean freight. Some automotive companies have already started shipping to Europe using this rail route.
Figure 3
The new "Silk Road," a railroad connecting China to Europe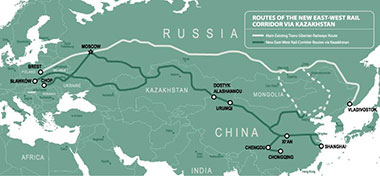 Resources You Need
Baird has private equity partners and operating professionals on three continents, including our Asia operations team. Located in Shanghai, China, these professionals have proven operating experience in Asia as well as a broad network of government and industry relationships. They work exclusively with our portfolio companies to develop and implement Asia strategies including:
Building global supply chains
Developing sourcing relationships
Establishing operations
Market entry strategies and local distribution
Baird Capital makes venture capital, growth equity and buyout investments in lower-middle-market companies in the Business Services, Healthcare/Life Sciences, and Industrial and Consumer Products sectors. Since inception, we have raised $2.8 billion.